FCC delays vote on controversial set-top box proposal
Comic-Con 2016: Warner Bros. Wonder Woman
Comic-Con 2016: Warner Bros. Wonder Woman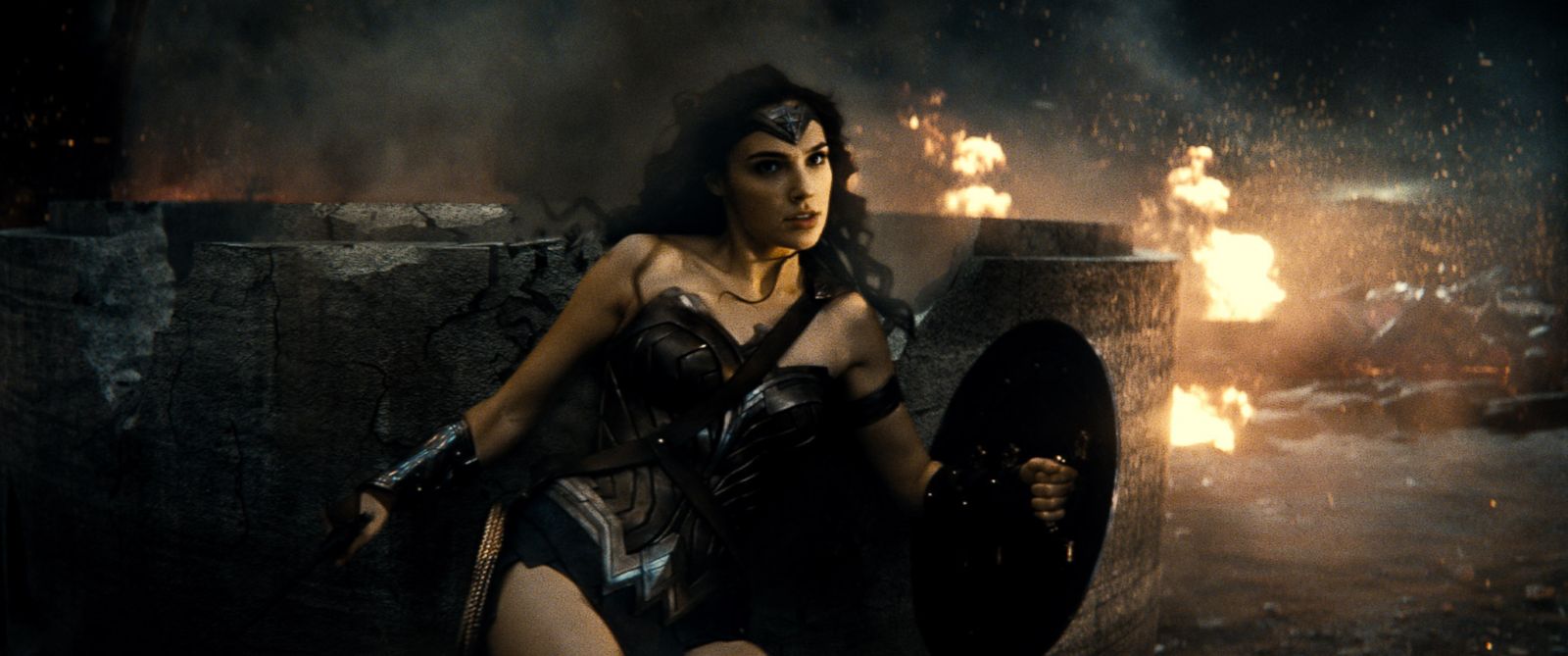 Fans got a taste of what's to come from Gal Gadot's "Wonder Woman" on Saturday as the first official teaser trailer debuted at San Diego Comic-Con.
"I have no father. I was brought to life by Zeus," our heroine says in the trailer as we get our first glimpse of her famed Lasso of Truth onscreen.
The clip also featured killer fight scenes and left the lead actress "shaking" in excitement after she got to show it to the packed house at the convention.
"It's an honor and a privilege," Gadot said about bringing this icon to the big screen. "She has the heart of a human and the strength of a goddess."
"Wonder Woman" is set to hit theaters in June, 2, 2017.
In footage shown later, we got our first taste of "Justice League." A fight between Aquaman and Bruce Wayne was featured, along with a fun scene featuring The Flash.
We won't see "Justice League" until 2019, but this definitely got the crowd excited today.
ABC News' Jason Nathanson is at the panel live-blogging, so check out all the action below!
Suicide Squad's Comic-Con Trailer Will Have You Rooting For The Bad Guys
If you weren't already rooting for the bad guys, the 3-minute trailer that dropped for Suicide Squad at Comic-Con today should do the trick. Not only does the preview do a nice job of showcasing the soundtrack for the anticipated movie, but it also brings this team of misfits together beautifully. Check it out…
This music-filled Suicide Squad trailer kicks off with the team hanging out at a bar enjoying their drinks, but Deadshot makes sure to remind his fellow operatives not to forget that they're the bad guys. Not you, Katana, you're good. From there, we get some scenes, both new and previously seen, detailing the movie's premise. A group of villains are locked up in at the Belle Reve prison, but by joining Task Force X and going on a dangerous mission for the U.S. government, they'll get time off their sentence. That is, of course, provided they obey Rick Flag and don't get themselves killed. These guys can get the job done, right? RIGHT?!
While there's plenty of action in the newest Suicide Squad trailer, including some extra looks at their mystical Adversary (yes, that's supposed to be capitalized), it also captures most of the Squad's personalities well. Deadshot's attitude, Harley Quinn's unusual optimism, Boomerang's Australian "charm," etc. Of course, not all of the villains in this movie are team players. We also see more of Jared Leto's Joker, from him diving after Harley when she falls into the vat of chemicals to interrogating a goon who I suspect pissed him off. Enchantress gets a few moment to shine as well, and while she's not technically part of the Squad, it seems likely that she'll be integral to stopping this threat.
There's only a few more weeks to go until Suicide Squad is released, and as the third entry in the DC Extended Universe, there's a lot riding on it. Whether you liked it or not, it's reasonable to say Batman v Superman: Dawn of Justice wasn't as successful as Warner Bros wanted it to be, so it's up to Suicide Squad to end 2016 for the DCEU with a bang…which is appropriate given how many guns are going off in the movie. Aside from Joker, Harley Quinn and Batman, this movie features characters regular moviegoers aren't familiar with, but at least the newest trailer did a good job of painting the main players in a cool light. Not that we would want to look at them as role models, but at least we'll be rooting for them when things go insane, as most Suicide Squad missions inevitably do.
Both the Suicide Squad movie and the soundtrack featuring the songs heard above and more will come out on August 5. Let us know what you think about this trailer (likely the last major one before the movie's release) in the comments below.
Review: 'The Woods' Delivers The 'Blair Witch' Sequel We Wanted 15 Years Ago
Adam Wingard delivers a fitting follow-up for fans, but "Blair Witch" gets lost somewhere between satisfying sequel and redundant reboot.
It's been 17 years since "The Blair Witch Project" changed the horror genre and independent filmmaking forever, and yet the new surprise sequel, "Blair Witch" (formerly known as "The Woods") is hoping you've forgotten — at least a little bit. Helmed by Adam Wingard ("You're Next," "The Guest") and written by his regular collaborator Simon Barrett, "Blair Witch" is shot, constructed and executed just like the original. And the slow-build fright fest will please genre purists — perhaps enough to reinvigorate the potential franchise — even if it feels all too familiar to the rest of us.
Starting in the very (scary) house we left off in — a fact given away in the trailer — Wingard and Barrett introduce us to four fresh faces, one of which holds close ties to a victim from the original. Driven to the woods for answers, the group also aims to make a documentary on their friend's eerie journey. But rather than spend time preparing for the hike or packing extra supplies, the found filmmakers introduce the audience to an array of cameras, all of which are carefully placed to provide maximum, uninterrupted coverage of…whatever comes next.
Confidant and succinct, the preamble should remind viewers of "Paranormal Activity," "Cloverfield" or any number of found footage films released post-"Blair Witch," all of which hastily explain just how this footage could eventually be found. While it feels like these filmmakers know they're treading on well-worn territory, this part's still a stretch, even if Wingard aptly modernizes the chosen cameras.
Drones, hands-free recorders and more easily available filmmaking equipment are implemented, and the visual flow of the film is fast, justifiably jumbled and carefully cut together. Like in the original, Wingard and cinematographer Robby Baumgartner knowingly violate sight lines to make audiences as disoriented as the lost campers.
Paired with a sound design that emphasizes sudden noises above all else, jump scares abound throughout the sporadically funny first half. Wingard continues to lightly add humor as a means to lull his audience into a false sense of security — setting them up to make the second half's dramatic shift hit even harder — but its his tendency to go for the easy starts (paired with a heightened audio burst) that quickly wears thin. Even one of the characters snaps, "Stop doing that!" after a particularly unjustified shock. Even though the sound design stands out because it's so, so very good (a staple of Wingard's films), it's also impossible to believe the audio came in so, so very clean.
And that may be part of the problem with "Blair Witch." What felt fresh when "Project" started the genre oh so many "Paranormal Activities" ago now feels ready to be picked apart. Audiences are too aware of how these films are made to buy in as completely as before, and that can distract from the story even when the formal elements are hard to fault.
Filmmaking should be admired, but when you're mimicking amateurs, where do you draw the line in terms of production value? Viewers didn't have similar concerns with the original because it was made on the cheap. Now, even with a $5 million budget, fans may wonder why the character's wild hair doesn't block their ear-mounted cameras or how anyone was able to find all the footage when it was scattered far and wide around the woods.
Compared to the ill-fated "Book of Shadows: Blair Witch 2" — the first follow-up which was rushed to market for financial reasons — this new iteration still comes across as downright inspiring. Wingard has gone about his sequel in a completely opposite fashion: Making it under a veil of secrecy and nearly two decades after the original debuted. More importantly, he's done everything imaginable to hold true to the spirit of Eduardo Sanchez and Daniel Myrick's creation; which also frames "Blair Witch" as much like a reboot as it does a sequel.
The big question begged by "Blair Witch" is whether it marks the beginning of a franchise or the end of the found footage genre. Of course, both answers are at least partially dependent on its box office results, but it's notable how different this film is, artistically speaking, than the first "official" sequel (made without the involvement of the original filmmakers).
While that studio film did choose Joe Berlinger to direct, who then had only made documentaries, it distanced itself from what made "The Blair Witch Project" so terrifying: Being afraid of the dark, of the unknown, of the woods. Figuratively, it told a story that felt far too separate from what Myrick and Sanchez created, but it also literally moved away from its unforgettable climax set deep in the heart of the forest. "Blair Witch," instead, gets right to it and then delves far deeper — aptly, given its original title — into the woods, providing a few answers and even better twists to what people were left wondering in '99.
One would think the chance to play with offscreen space would make Wingard the perfect fit, and, in many ways, he is. The young horror maestro has created the exact follow-up fans wanted in the early 2000s when "Book of Shadows" dropped instead, and Wingard certainly leaves his mark on the franchise for the better. But "Blair Witch" is more of a new beginning than a satisfying end, and it feels far too late to start over.
Comic-Con: 'Gotham' Star Previews "Utter, Total Anarchy" in Season 3
The city of Gotham will be a very different place when the Fox drama returns for season three this fall.

"We're six months in the future and the monsters that have been unleashed…are turning the city into utter, total anarchy," star Ben McKenzie told the crowd Saturday at the show's Comic-Con panel.

Gotham's second season wrapped with Strange's (B.D. Wong) monsters being freed from an abandoned bus and beginning to walk through Gotham. "Jim Gordon is a bounty hunter taking out the monsters and getting paid," McKenzie said. "It's a really dynamic start to season three."

One of the monsters, notably, looks nearly identical to Bruce Wayne (David Mazouz). "The thing that I really wanted to make clear going into season three is they're two different people," said Mazouz, who said it's been a "blast" to play the two characters.

"He comes in perhaps not knowing what he's there for but he was created for a reason and he does have a mission," executive producer John Stephens added. "He's going to have a huge impact on Bruce's life and on Selina's life as well."

Selina's life also will be complicated by the new, older Poison Ivy (Maggie Geha). "I don't think they like each other," Camren Bicondova said. "I don't think that's going to go very well for Selina."

The dynamic between Oswald (Robin Lord Taylor) and Edward Nygma — (Cory Michael Smith) also remains to be seen. "There has to be a reckoning here because the last time we saw each other, I dismissed Oswald from my apartment," Smith said. "When I get out of Arkam, I'm a completely different person here and its kind of this clean slate.… I just get to begin again."

Oswald is particularly coming off a rough season after the death of his characters. "There is a big hole in his life now. He needs people to trust," Taylor said. "The connection that he has with Nygma falls right into that."

The six-month time jump for the series also comes after the end of Gordon's relationship with Leslie (Morena Baccarin), who returns "perhaps with a new love interest," the actress teased.

"Leslie went through some tough times," she said. "I think she was hoping Jim would come find her and rescue her and all that good stuff. But the losing of their baby and the way he went to jail and everything — she's had to piece herself together."

Don't expect a quick resolution for the couple. "Their road will be long and winding," McKenzie said.

In addition to the new, older Poison Ivy, the drama is getting ready to introduce Benedict Samuel as the Mad Hatter in season three. When asked about the possibility of villain Ra's al Ghul coming to the show, Stephens said the character has not yet been introduced on the show. It's a "conversation that we've had a lot, but it's a big step we would take if we ever took it," he explained. "It's a big maybe out there."

As for returning characters, the executive producers left the door open for Jerome (Cameron Monaghan) to return despite his season-two death. "As we've seen in Gotham, death is not really a barrier," Stephens said. "In Gotham, you can't keep a bad man down."

The executive producers were equally cryptic, as usual, about whether the show will ever see Bruce Wayne officially suit up and become Batman.

"There's no rush," EP Danny Cannon said. "There's a lot of drama to be had before we get there."

Gotham's third season premieres Monday, Sept. 19, at 8 p.m. on Fox.
Comic-Con: 'Walking Dead' Season 7 Trailer Debuts
The Walking Dead diehards, the wait is almost over.Months after the season six finale cliffhanger that left the identity of Negan's victim a mystery, the zombie drama used its platform Friday at Comic-Con to release the first trailer for season seven, which will premiere later than usual on Oct. 23. Internationally, it will bow within 24 hours.

"Everyone's going to be blown away," EP Robert Kirkman said of the new season to open the panel, with showrunner Scott M. Gimple noting that the Kingdom will feature big in season seven, while Gale Anne Hurd teased the arrival of non-human characters. The comments point to Ezekiel and his pet tiger, Shiva, both of whom appear in the trailer, below. Plus casting for Ezekiel was also announced Friday.

While the trailer definitely sets the stage for season seven, it naturally does not reveal which of 11 series regulars lost their life to Negan (Jeffrey Dean Morgan) and his barbed-wire covered baseball bat, Lucille.

Sources told THR that in a bid to protect the reveal, each of the 11 cast members left kneeling before Negan in the season six finale — Carl (Chandler Riggs), Rick (Andrew Lincoln), Michonne (Danai Gurira), Eugene (Josh McDermitt), Maggie (Lauren Cohan), Sasha (Sonequa Martin-Green), Daryl (Norman Reedus), Arron (Ross Marquand), Rosita (Christian Serratos), Abraham (Michael Cudlitz) and Glenn (Steven Yeun) — each filmed a death scene with producers and the episode director working with the show's editors to ultimately pick the character who does indeed die.

Season seven of The Walking Dead will pick up immediately with Negan's deadly swing, and as Morgan said, "You'll see who was at the end of that bat and what happened from there." Series creator and EP Robert Kirkman has said that Negan's victim is "beloved to everyone." For those who haven't read the comics on which the series is based [spoilers ahead], the landmark 100th issue sees Negan beat Glenn to death with Lucille.

Watch the trailer, below.

Comic-Con: Watch the Trailer for FX's 'X-Men' Drama 'Legion'
The erstwhile Matthew Crawley is a long way away from Downton Abbey.
FX threw its hat into the superhero ring Saturday at Comic-Con when the network unveiled the first footage of its forthcoming X-Men drama series Legion. The footage was shown at Comic-Con during a Marvel panel with chief creative officer Joe Quesada and was well received.
Legion marks the latest Marvel TV series and first on basic cable. It joins ABC's Agents of SHIELD and Netflix's Luke Cage, Daredevil, Jessica Jones, Iron Fist, The Defenders and Punisher.
Dan Stevens, best known for his starring role during the first three seasons of Downton Abbey, returns to television screens in Legion, based on the Marvel Comics character of the same name. Stevens plays David Haller, a man who is diagnosed with schizophrenia and learns that the visions and voices in his head might be more real than he once realized.
The Marvel character, created by legendary X-Men writer Chris Claremont and artist Bill Sienkiewicz, stands out as an improbable figure to build an entire show around. But the creative mind behind Legion knows a thing or two about improbable shows: Noah Hawley, head writer and producer behind FX's award-winning Fargo, mashing Coen Brothers' true-crime elements with some of the auteur filmmakers' more mystical interests. See: alien space-crafts hovering over the American midwest in the middle of a gunfight.
Expect that extraterrestrial event to only skim the surface of Hawley's whacked-out wheelhouse, based on the footage released Friday.
In addition to Stevens, Legion features an all-star cast, including Fargo veterans Rachel Keller and Jean Smart, as well as Parks & Recreation favorite Aubrey Plaza.
Watch the trailer, below.
How to watch the 2016 Rio Olympics